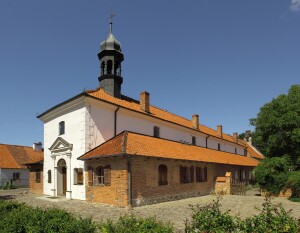 Hospital of the Holy Ghost – post-hospital complex with the chapel of St. Anne, ehas existed since the end of 15th century, in present shape since the beginning of the 18th century. After 1945 destroyed and abandonned, renovated from 1978 till 1989 for the needs of the museum – department of medicine's history. The most valuable elements of decoration: 1) wall painting in St. Anne's chapel depicting the Last Judgement (beginning of the 15th century), 2) two hypocaust stoves (beginning of the 15th century) – presented thanks to archeological outcrop, 3) epitaph plates from the 17th century, 4) pulpit, 18th century.
In the rooms of the hospital there's an exposition of the museum's purchases for the division of medicine history, and the exhibition of Varmian sculpture and painting of 17th and 18th century.
On the southern side, the herb garden with the growing of curative herbs.